Saturday, June 25, 2005
East End Art
is an area north of
798
featuring more than 10 galleries, art organizations and artist studios centered around a courtyard.
Tracey Moffatt
's "LOVE" video is showing on a monitor at
L.A. Gallery
. I find myself sympathizing with the women as they clumsily slap and shoot their lovers, while goose pimples pop up on my skin when the men counter with much more powerful blows.

Across the courtyard at
Beijing Commune
another opening "Mayfly" features 3 artists:
Zhang Dali
,
Xiao Yu
and
Ma Luming
exploring the ongoing process of forming new identities of the individual in a rapidly changing society.
Xiao Yu
explores the concept of the modern 'person' in a series of computer manipulated photographs where different parts of different faces are pieced together to form new faces. The nature of individuals is turned into a question mark.
Zhang Dali has studied the peasant workers who are the fundamental force behind China's ongoing construction work. He describes how they only have their bodies to offer to survive. They have left their villages, homes and families ? their old identities in exchange for minimal pay for physical work. They have no status, no rights, no faces. In "New Faces" Zhang Dali has portrayed the workers in a series of heads emphasizing individual features while the eyes are closed. In another piece exhibited in the near by
STUDIO 3
full size sculptures of the migrant workers are hanging in ropes from the ceiling. While the buildings are rising, the workers are hanging upside down.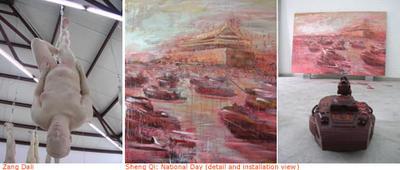 Another artist in
STUDIO 3
is
Sheng Qi
who shows his signature four-fingered hand photographed with passport-sized portraits of various people. Corporal punishment, and Dali Lama worship comes to mind as powerful metaphors. He also displays a provocative painting of Tian Anmen Square covered with military tanks and dripping red paint. On the floor is a model tank aiming at the painting which is called "National Day"- irony or propaganda?
We move on to
798
or
Dashanzi Art District
where we stop to have a coffee at trendy
At Cafe
. I order a tuna sandwich with fries and feel like I'm in Europe. The feeling continues to
Galleria Continua
, a pretty new gallery here in a beautiful huge industrial space. They promise to bring the best contemporary European Art to China, and we can see mirror stripes by
Daniel Buren
and
Ilya Kabakov
's fly writing on the wall.
Anish Kapoor
and
Michelangelo Pistoletto
are also on view (they are not joking). Before departure from Oslo I was given a photocopy of the invitation to this show that was floating around at Ute's desk at
OCA
...

A forceful rain-storm keeps me up all night, so I go out to record the amazing sounds of falling water...