wrap up

After 3 1/2 hours sleep I wake up by the sound of a lawn mower. I start organizing my papers while I wait for Per Jonas from the Embassy to pick me up and go to the airport to send the crate with my photographs. The driver is stuck in traffic, and they arrive late. I am very grateful that they are helping me. I would never have found the place or been able to do this on my own: First they claim we have to repack the crate because Norway will not accept wood from China. PJ explains this is plain wood not from the rain forest and it will be no problem. He has to write a declaration letter stating so. Then they say they cannot take the crate for custom clearance because they have lunch break and tell us to come back in 2 hours - it might take until 4 or 5 before we are done. I am not happy. I have to take down the
water series
, speakers and pack, and I have an appointment with Baoju at 5. Nothing can be done. We have lunch at the airport, hang around and wait till it's time to return. After an hour they have good news: the customs did not open the crate and we can pay and leave. I am very happy. The Embassy is the best! They take me home and I am able to take down the prints and speakers without problems. I hook the sound up to the monitor speakers and the installation still looks good without the photographs. I have no time or means to take it down. Natalie says they will keep it up for a while.
I hop in a cab to 798 to see Iain's installation at Long March. His piece is really great: a charming phone booth with Chinese lanterns and a miniature pond with real fish outside. Many people have told stories about how they see China change on the phone. The stories are edited and played back over speakers. We say good buy.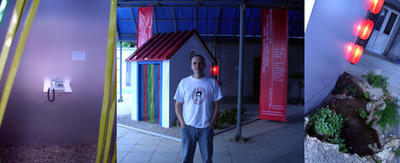 I continue to At Café to check my mail and upload files. Baoju arrives and we talk about art and life. It is interesting how I connect easier to Chinese women than American. Natalie and Els arrive and we head for
Hatsune
, "the best Japanese restaurant in town". The interior is super nice and the food is excellent. Els who is from Belgium and works with Natalie has just got back from guiding a group in Pakistan, we share stories and opinions and have interesting conversations. Natalie takes me home and I pack till I drop.