happy and computerless
Visited
Wang Zhi Yuan
's studio during another BBQ at the neighboring artist compound. The walls of his studio are covered in pink panties, each about 80x60 cm. He notes how women are more interested than men to see and buy his art. He is now working on a 3x3 m piece in metal that I really like, it kind of holds more meaning. He describes the contemporary Chinese art scene of independent artists as parallel to the official state funded artists, the first group's connections to the western art world and how new-rich Chinese come by his studio to look and buy. He also talkes about the difference between his generation of artists who have a strong reference in the Cultural Revolution and are concerned with politics and history, while artists 10 years younger are unfamiliar with and uninterested in history - happy and careless...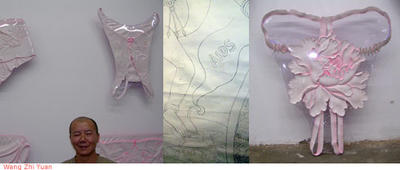 Laptop diagnosis: motherboard is DEAD and must be ordered from Singapore.
Pen and paper are excellent tools.